Rolex, the iconic luxury watch manufacture, was founded in 1905 by Hans Wilsdorf in London, England. Wilsdorf, a visionary entrepreneur, had a passion for precision timekeeping and sought to create wristwatches that were not only accurate, but also elegant and reliable. He partnered with Alfred Davis, a skilled watchmaker, to start their own watchmaking business. Initially, the company was known as "Wilsdorf & Davis." In 1908, Wilsdorf registered the name "Rolex" as a trademark, and the brand quickly began to gain recognition for its innovation.
Over the years, Rolex has continued to push the boundaries of watchmaking technology and design. Today, Rolex is renowned for its exceptional craftsmanship, precision, and durability and is considered one of the world's most prestigious luxury watch brands. From its beginnings in London to its global reputation as a symbol of luxury and excellence, Rolex continues to impact and influence the world of horology.
Historically Superior: For many reasons, Rolex timepieces are an ideal investment, designed to last for generations. Rolex watches are made with high-quality materials, such as Oystersteel, gold, and precious gemstones, contributing to their long-term value.
Rolex is known for its meticulous attention to detail and stringent quality control standards, ensuring that each watch is built to last. The brand has developed a series of testing methodologies and advanced equipment to certify their watches with the strictest criteria. Every part of the timepiece is checked for precision, waterproofness, winding power, and the strength of its power reserve. Once testing is complete, each Rolex timepiece earns the exclusive Superlative Chronometer Certification.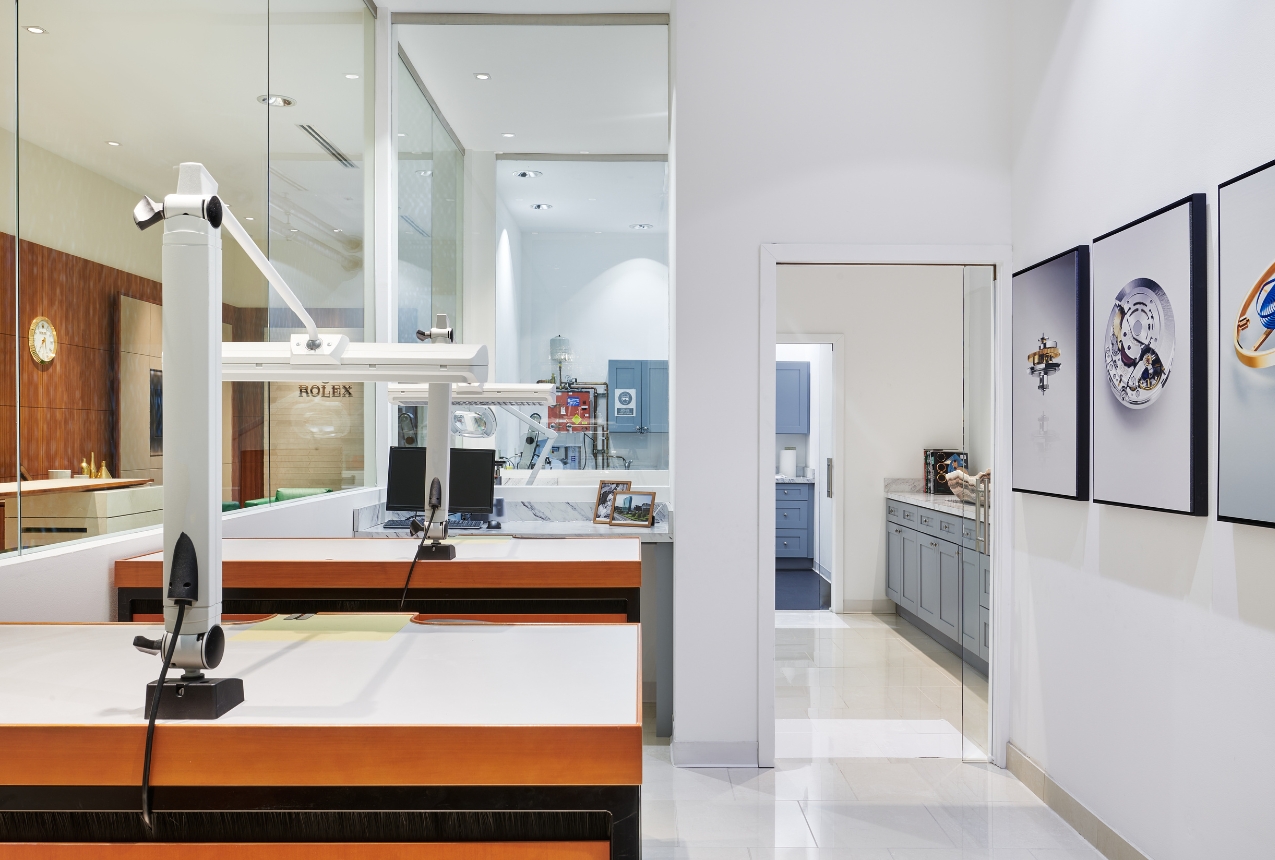 Image: Razny Jewelers (Downtown Chicago, Gold Coast)
Servicing Your Rolex: Rolex was founded to be the standard in durability and dependability. Each watch is an ambassador of this mission, retaining accuracy and style generation after generation. For this reason, a Rolex timepiece worn daily requires only the slightest care, and there is no limit to how long a Rolex watch can function.
However, as with any precious treasure, you'll want to service and maintain your timepiece periodically. It is recommended to service your Rolex approximately every ten years—depending on the model and real-life usage-- to keep it in optimal condition.
When looking for a trusted watchmaker to service your Rolex timepiece, there is no substitution for finely honed skills and seasoned experts. As an Official Rolex Jeweler with a Rolex Authorized Service Center, Razny Jewelers is proud to provide Chicago with the world-class standard for which Swiss watchmakers in Geneva are known.
Our Authorized Service Centers are certified by Rolex to ensure the longevity and performance of the timepieces we service. The program is designed for Rolex clients who want to maintain the authenticity and reliability of their watches, and it involves a series of meticulous steps carried out by Rolex-certified technicians.
The first step in the Rolex servicing procedure is the thorough inspection of the watch, where Rolex technicians carefully examine every component of the timepiece to identify any potential issues. This includes checking the movement, dial, bezel, bracelet, and case to ensure that they are in optimal condition. Any worn-out parts are replaced with genuine Rolex parts to maintain the integrity of the watch.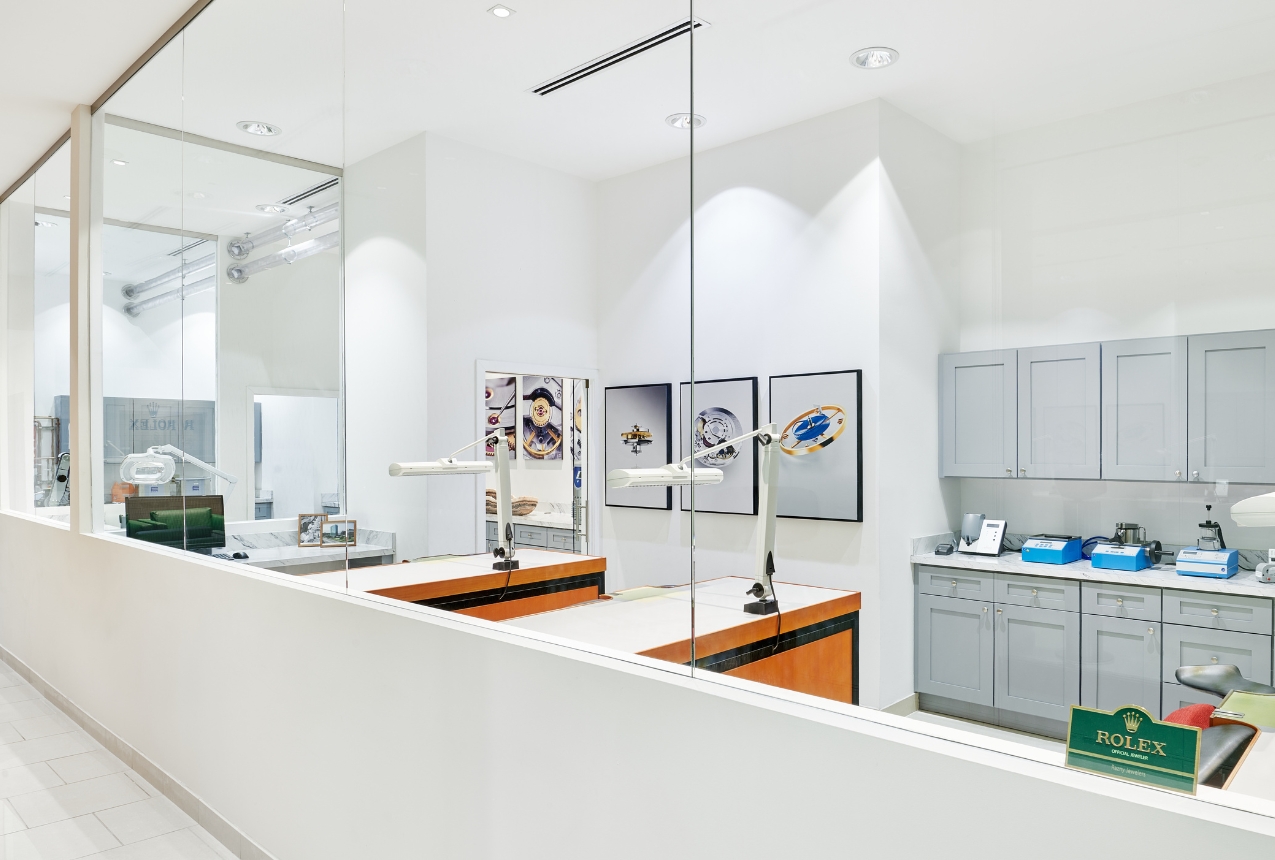 Image: Razny Jewelers (Downtown Chicago, Gold Coast)
Rolex Authorized Service Center at Razny Jewelers' Downtown Chicago Showroom
After the inspection, the watch is disassembled, and each part is cleaned using specialized techniques to remove dirt, dust, and debris that may have accumulated over time. The cleaning process is essential to ensure the smooth functioning of the movement and to maintain the aesthetic appeal of the watch. Once the cleaning is complete, the watch is reassembled with great precision by Rolex technicians.
The next step in the service procedure is the lubrication of the movement with high-quality lubricants that are specifically selected by Rolex in Geneva. This ensures that the movement operates smoothly and reduces wear and tear on the components, enhancing the accuracy and reliability of the watch.
Once the movement is lubricated, the watch is tested for accuracy and water resistance, which are important features of Rolex timepieces. Rolex technicians use advanced equipment and rigorous testing methods to ensure that the watch meets Rolex's stringent standards. If necessary, adjustments are made to the movement to achieve optimal performance.
Finally, the watch is meticulously polished to restore its luster and shine. Rolex uses specialized techniques to polish the case, bracelet, and other components of the watch, bringing them back to their original condition. The polishing process is done by skilled craftsmen who pay attention to every detail to ensure that the watch looks pristine.
Rolex service is a comprehensive and meticulous process performed exclusively by Rolex-certified technicians using genuine Rolex parts and specialized techniques to ensure that the watch maintains its authenticity, performance, and aesthetic appeal. The program is designed to provide Rolex clients with the highest level of service and to keep their watches in optimal condition for generations to come. As a discerning Rolex owner, investing in regular servicing by authorized Rolex technicians is a wise decision to protect and prolong the lifespan of your precious timepiece.
Why should you trust only an Official Rolex Jeweler like Razny Jewelers: Rolex has filed more than 500 patents in the course of history, shaping the horological industry as it stands today. They've protected the innovations of their watchmakers, engineers, scientists, and gemologists with a global network of exceptional watchmakers that succeed in maintaining the functionality and aesthetics of the brand's creations. Trust your treasured timepiece with a jeweler trusted by Rolex. Our experts receive up-to-date professional training and treat your watch with the most outstanding care, as if it were their own.
The Razny family invites those in the Chicago area to visit our state-of-the-art shop on the third floor of our downtown showroom in the city's Gold Coast. Suburban locations in Addison and Highland Park also offer unmatched in-house timepiece service centers.
Visit our service centers in downtown Addison, Chicago (Gold Coast), and Highland Park.