We are overwhelmed with information. Our devices are smart, our schedules are packed, and our minds are racing. An hour rarely passes without competing forces vying for our attention. There is little time for reflection in a world too busy for grace. What if, for even a moment, we could control the chaos? Can we return to a time when we valued taking our time? A desire for organization and command is why we appreciate Patek Philippe's World Time watches today more than ever. This wearable work of art allows us to carry an orderly world on our wrists.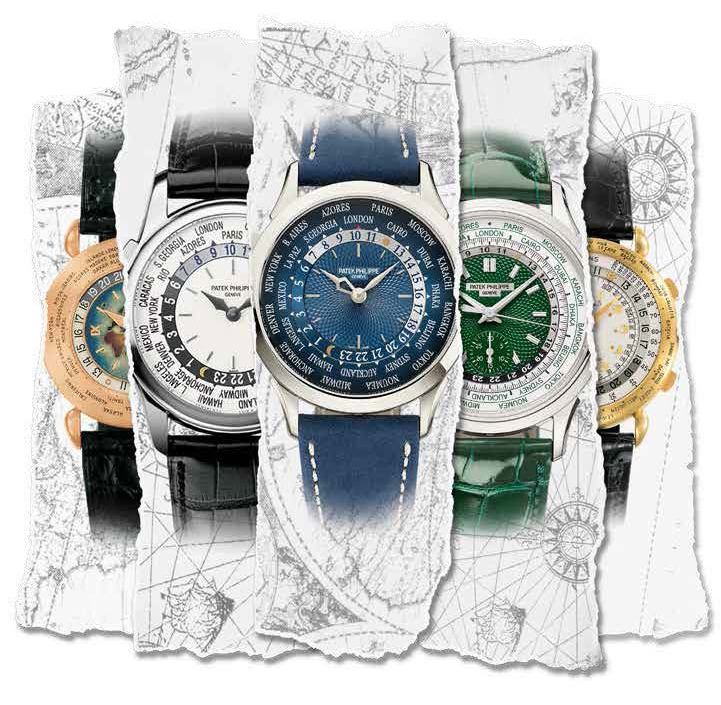 It is nearly impossible to imagine what life was like before the global twenty-four-hour time standard. It was not an environment primed for the digital revolution or the birth of the internet. We needed a coordinated universal time to synchronize the progress of humanity. Famously in 1876, inventor Sir Sandford Fleming campaigned for a global standard after missing a train in Ireland due to the impossible task of knowing when that train would depart. His efforts earned him a place in history as "The Man Who Gave Us Time," and almost immediately, Patek Philippe gave us the World Time.
In 1931, Swiss watchmaker Louis Cottier developed a remarkable World Time complication. On one dial, he displayed twenty-four time zones. An impressive feat, it was something never before seen, and the face of the first piece showed a dial crafted by the Stern family, today's owners and custodians of the Patek Philippe company and name. The Stern family later refined and patented the original mechanism, guaranteeing that every generation thereafter would have a World Time to inspire it.
Today, Patek Philippe's World Time watches, also referred to as Heure Universelle by collectors, remain among the manufacturer's most desirable complicated wristwatches. As it did nearly a century ago, the dial shows the world's twenty-four time zones at a glance, displaying local time prominently at 12 o'clock. The other twenty-three are directly readable on the 24-hour ring that rotates counterclockwise within the city disk.
The World Time ensures we understand not just where we are but when, and it does it with the grace and civility once experienced exclusively in the first-class car of a transatlantic train. It is a refreshing contrast to noisy cellphone notifications and constant pinging, bringing romance back to horology.
The Continuation of a Legacy
At Watches and Wonders 2022, Patek Philippe introduced three reiterations of the famed World Time, including a new version of the ladies' Reference 7130.
In this issue of Razny Jewelers Magazine, you can follow the effect Patek Philippe's ladies' watches have had on the industry. Among these revolutionary pieces is the Ref. 7130G, first released in 2011 with a grey-blue dial in a white gold case and then reimagined in 2022 in rose gold with an olive green dial as the Ref. 7130R. Both display 62 diamonds around the bezel and 27 on the strap's prong buckle. Under its gold-applied hour markers beats its heart, the self-winding caliber 240 HU, a movement that allows for a chic, thin case. It is a study in refined elegance and honors the rare craftsmanship for which Patek Philipp is known.
The watchmaker also paid tribute to the dynamism of South-East Asia and Oceania with the Ref. 5231G, a white gold World Time displaying a Grand Feu cloisonné dial bearing a map of the eastern world. Combining geography and poetry, Patek Philippe used a delicate gold wire to mark off the dial's center. Expert artisans then filled the innermost section with vivid hues of the oceans and continents. Its slim case is facilitated by the same caliber as that of the Ref. 7130, the 240 HU.
This year's Ref. 5230P is an evolution of the model introduced in 2016. The Stern family has given the watch a platinum case and blue dial, with a hand-guilloched circular pattern at the center. The wearer can simultaneously adjust all time zones in one-hour increments by pressing the pusher at 10 o'clock, thanks to a mechanism patented in 1999.
As our daily lives inevitably become busier and our world smaller, there will always be room for the elevated elegance of these timepieces at the top of our collection.
Discover the history and art of Patek Philippe at Razny Jewelers in Downtown Chicago and Addison.
Schedule your appointment to shop our Patek Philippe collection in person.