It is impossible to overstate the importance of Breitling's Navitimer to the progression of flight and exploration. In 1952, Swiss inventor Willy Breitling thoughtfully designed the Navitimer to make its wearer a better aviator. Two years after its development, the largest pilot club in the world, the Aircraft Owners and Pilots Association (AOPA), knighted the watch as their official timepiece. As civilian air travel took off, the Navitimer was on the wrist of the professionals in the cockpit and the jet-setters in the cabin.
The Navitimer was made for the stars and to fly among them. It soon became a phenomenon no one could have predicted, not even its originator. American composer Miles Davis wore his while developing a new sound called jazz in the 50s. In 1962, astronaut Scott Carpenter commissioned a one-off model for space, a 24-hour timepiece to tell day from night.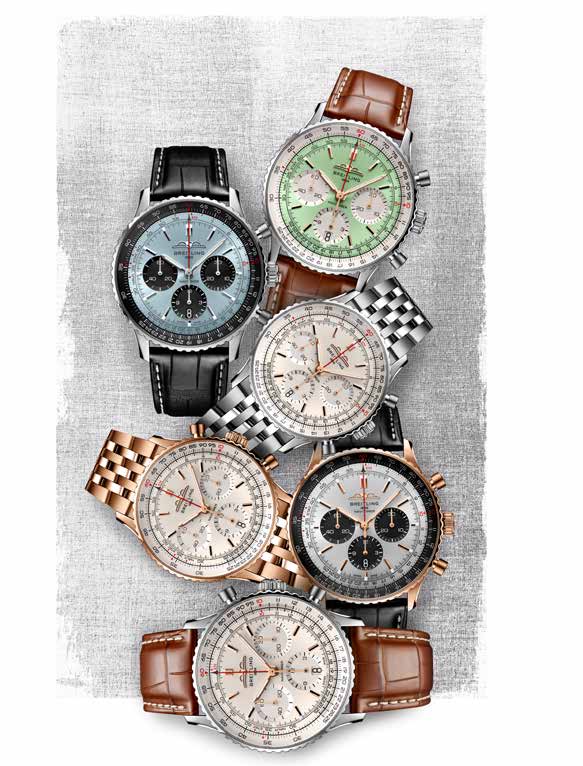 AN INCLUSIVE ICON
For years, women wanted a Navitimer that was stylish and compact but as sophisticated as the vintage pieces their fathers and grandfathers wore in the 50s and 60s. Breitling answered in 2018, just one year after the arrival of CEO George Kern, with the Navitimer Automatic 38, the ideal companion for thought leaders and adventure-seekers. Available in various materials, including stainless steel and 18K red gold, a range of dial colors, and bracelets in black, blue, or gold alligator leather, it exemplified the rebirth of a beloved Swiss watchmaker and a historic watch. Men saw the new Navitimer as not exclusively a lady's timepiece. It was simply a 38-millimeter watch they'd gladly wear too, hinting at Breitling's turn toward more androgynous designs.
In 2020, Breitling doubled down on their inclusive rebranding with the Navitimer Automatic 35. This time without a date function, it is an even smaller reinterpretation of the classic Navitimer in five different options for a bracelet or strap. What is so remarkable about the Navitimer Automatic 35 is that the bones of the classic design are unchanged. The slide rule and bidirectional bezel, once necessary tools for quick calculations while flying and a favorite feature among collectors, remain. However, elegant new dial colors, and a diamond-set white mother of pearl version, reveal it to be a fresh, unique take on the original.
This year, Breitling revealed a full range of exciting new Navitimers in 46mm, 43mm, and 41mm. The new Navitimer displays a trio of chronograph counters in shade pairings, including blue and black, green and black, and silver and black. Its slide rule is now flatter, and a domed crystal creates a more compact profile. An easy-to-grip notched bezel, baton indexes, and the highly-anticipated return of AOPA's logo at 12 o'clock add refreshing juxtaposition between the symbolic aspects of the icon's design code and hues that exude modernity.
Discover Breitling's collection, including the new Navitimer, at Razny Jewelers in Addison, Highland Park, and Hinsdale.