This week, we're diving into the increased popularity surrounding July's birthstone — the RUBY!
Look around you. Everyone's smiling more, stepping lighter, dining al fresco, and walking hand-in-hand. Summer is finally here, and undeniably love is in the air.
At the start of the 20th century, experts from around the country adopted an official list of gems to correspond with each month of the year. For July, the month of passion, they assigned the resilient ruby. It's easy to see why. July's birthstone is a fiery symbol of fervor. If love were a team, the ruby would be its mascot.
Today, couples from around the world are turning to the ruby when designing their modern, fancy, and even traditional engagement rings. Here are three reasons why rubies make the ideal center stone.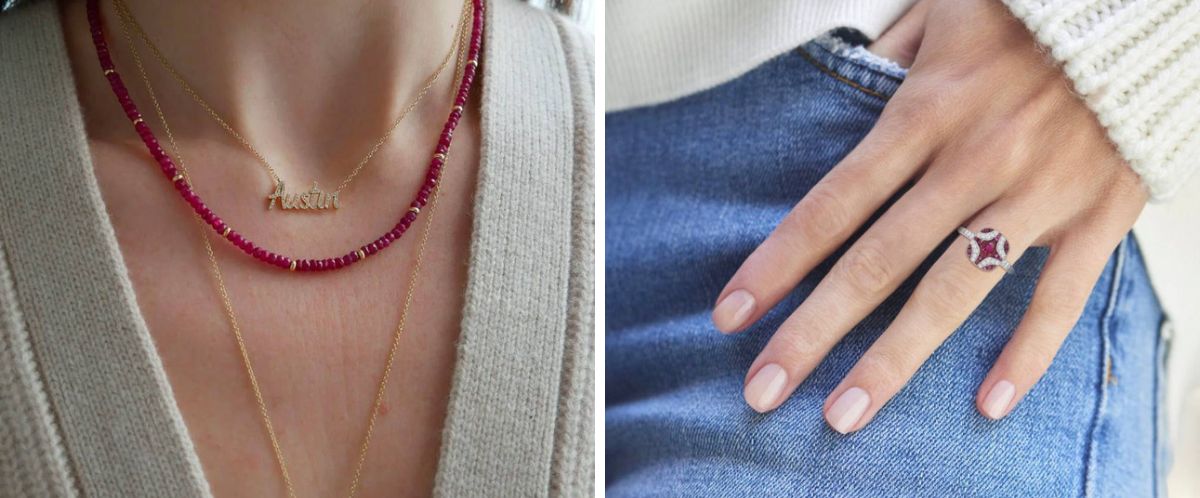 Three reasons why Rubies are the new Engagement Gem
Rubies are Valuable
According to the Gemological Institute of America (GIA), rubies can command the highest per-carat price of any colored stone. The reason for their worth is their rarity. While most women will own at least one diamond in their lifetime, fewer possess a quality cut of a ruby. What is more, ruby comes from one of the rarest varieties of corundum in existence. That brings us to our second reason for the growing popularity of the ruby.
Rubies are Unique
Corundum isn't a word most regularly pull from their lexicon, but the mineral is in many things we use daily. Think sandpaper and grinding wheels. It ranks at nine on the Mohs hardness scale* (diamonds rank at 10) and industrially is mined for its abrasive, tough character. However, the corundum beast has a beautifully soft side.
Gem-quality corundum creates sapphires and rubies. Jewel-lovers adore a sparkling blue sapphire, but this hue is found naturally more often than yellows and greens. Even rarer is the corundum's creation of the brilliant red found in rubies.
"In its purest form, the mineral corundum is colorless. Trace elements that become part of the mineral's crystal structure cause variations in its color. Chromium is the trace element that causes ruby's red," states GIA. Chromium (like that found in stainless steel) creates an uncommon cocktail in the mineral. Together, this corundum and chromium concoction serves the most valuable variety of the mineral's species.
Rubies are Impossible to Ignore
No bride-to-be keeps her engagement ring in a box under her bed. She wears it proudly, keeps it polished, and manicures her nails to perfectly showcase the sparkle on her finger. There is no precious gem more adroit at seeking the right kind of attention than a ruby. Where's the proof? Science has it!
On the color spectrum, red is the most visible. This fact is why, in a rainbow, we first notice the reds, oranges, and yellows. Red is the color we were created to admire, from even at a distance.
Whether or not engagement is on your mind, Razny Jewelers has a ruby collection for you. Browse our right-hand rings, cufflinks, and necklaces emblazoned with July's brilliant birthstone.
Featured Image: Part of the curated catalog from the Razny & Sloane Street collaboration, this ring features a Rubellite gemstone in the center surrounded by a halo with rubies in an east-west style. Set in 18K yellow gold. Please contact us for sizing information.