Posted by Razny Jewelers on Feb 3rd 2022
Razny Jewelers is proud to offer this collection of luxury brands to you.
For your shopping ease, we've curated our staff's top Valentine's Day picks.
Image: HULCHI BELLUNI
CLICK HERE TO SCHEDULE YOUR APPOINTMENT WITH OUR JEWELRY EXPERTS
Appreciation never goes out of style, and there's no better time than now to remind our partners, families, and friends how much we value them.
At Razny Jewelers in Downtown Chicago, Addison, Highland Park, and Hinsdale, our experts will be happy to assist you in finding your special someone something extra meaningful!
Here are our top picks for gifts they're sure to love on Valentine's Day and throughout the year.
Diamond Line Necklaces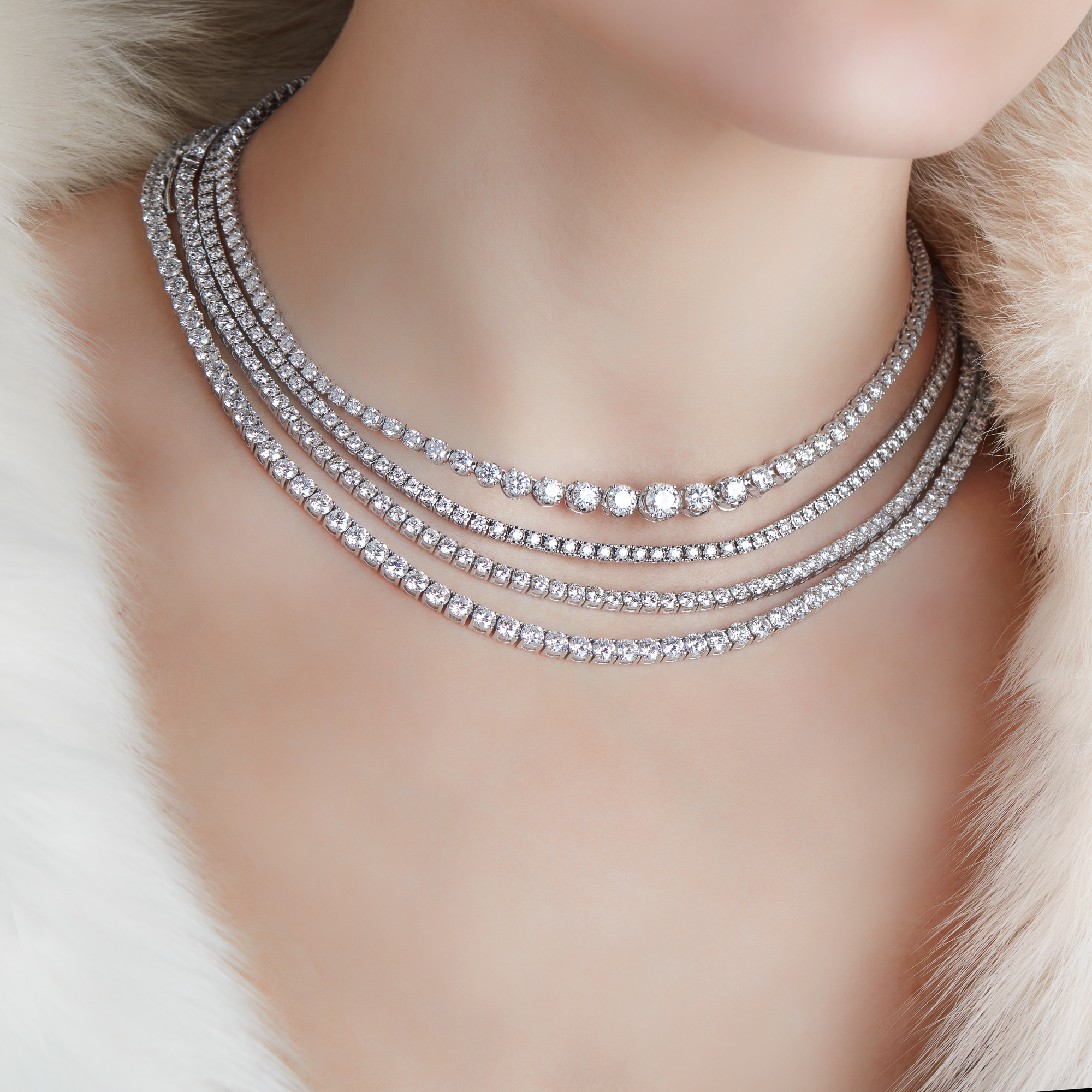 Diamond line necklaces and Riviera necklaces by Razny Bespoke are a gift that instantly becomes a treasured heirloom for the entire family. Brilliant diamonds, sparkling in a row around the neck of your love, are a constant reminder of your unfailing devotion.
Discover more women's necklaces from Razny Jewelers by clicking here.
Diamond Stud Earrings
You've heard us say they are the "little black dress of jewelry" because they go with everything and are always in style, but, better than the dress, diamond studs are one-size-fits-all. Delicately floating on the ear without altering the silhouette, they are the perfect item to be worn to a gala or working from home. Designers of today are reimagining this timeless accessory in unexpected ways. Double-sided studs, two interlocking earrings placed on both sides of the earlobe, are having a big moment on both the black tie and street style scene. Earring jackets, which convert more simple studs into statement earrings, are the perfect way to get the most out of a single pair. The best way to find your ideal pair is to visit Razny Jewelers, where we proudly offer the best selection of diamond stud earrings in the greater Chicago area.
Our stud earring collection starts at only $500.
Diamond Pendants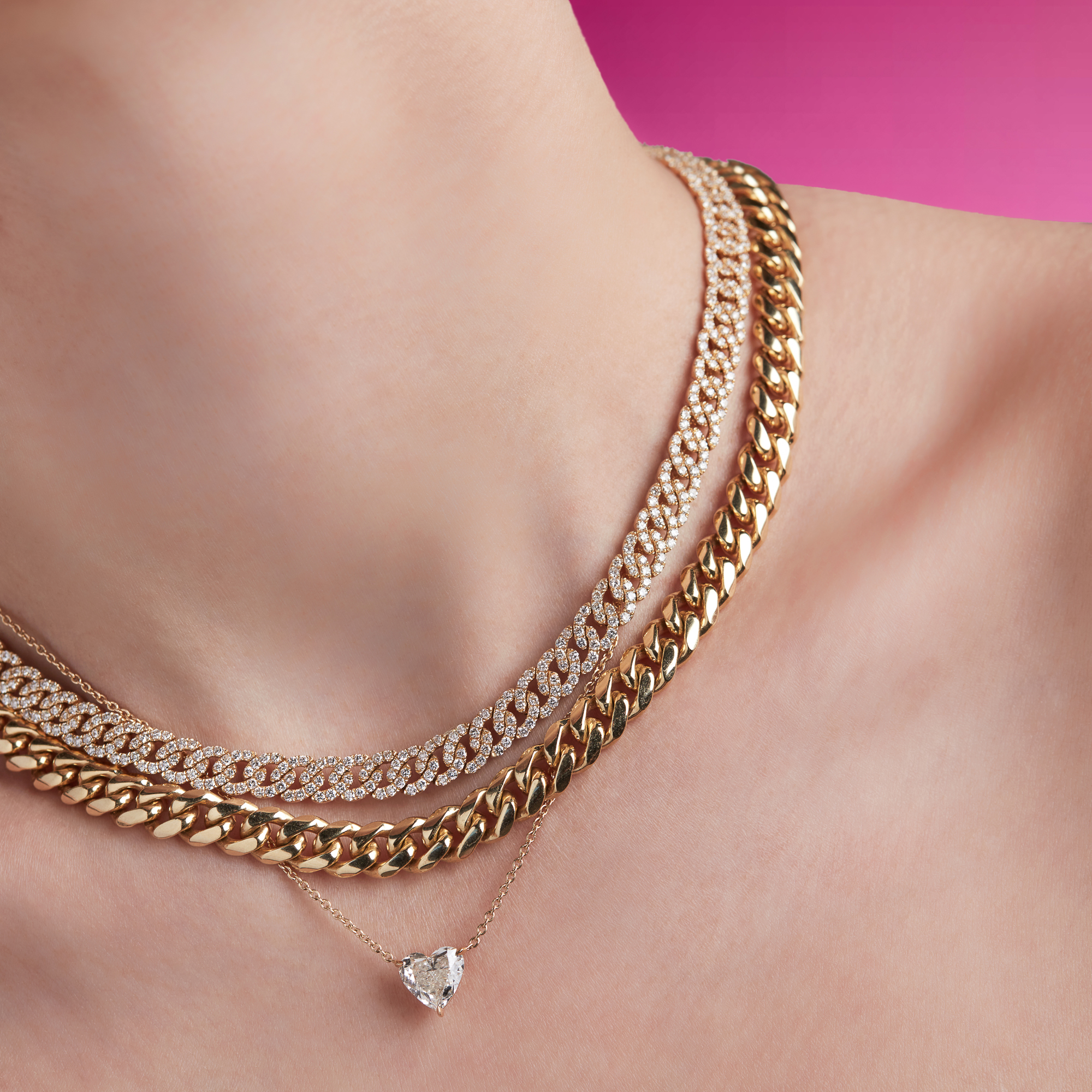 Few items evolve with us year after year, decade after decade, as does the diamond pendant. Pendants are adorable when worn by our little ones, and those same pendants look chic and elegant when layered with statement pieces in our 20s. For our 30s and beyond, we may choose to accent a diamond pendant with a chain necklace or another delicately romantic item. As time passes, this same diamond pendant becomes more intrinsic to our signature style and wardrobe, and that's something that so rare in a gift.
Shop this adorable heart pendant here.
Shop more heart-themed jewelry.
Statement Pieces by Rahaminov Diamonds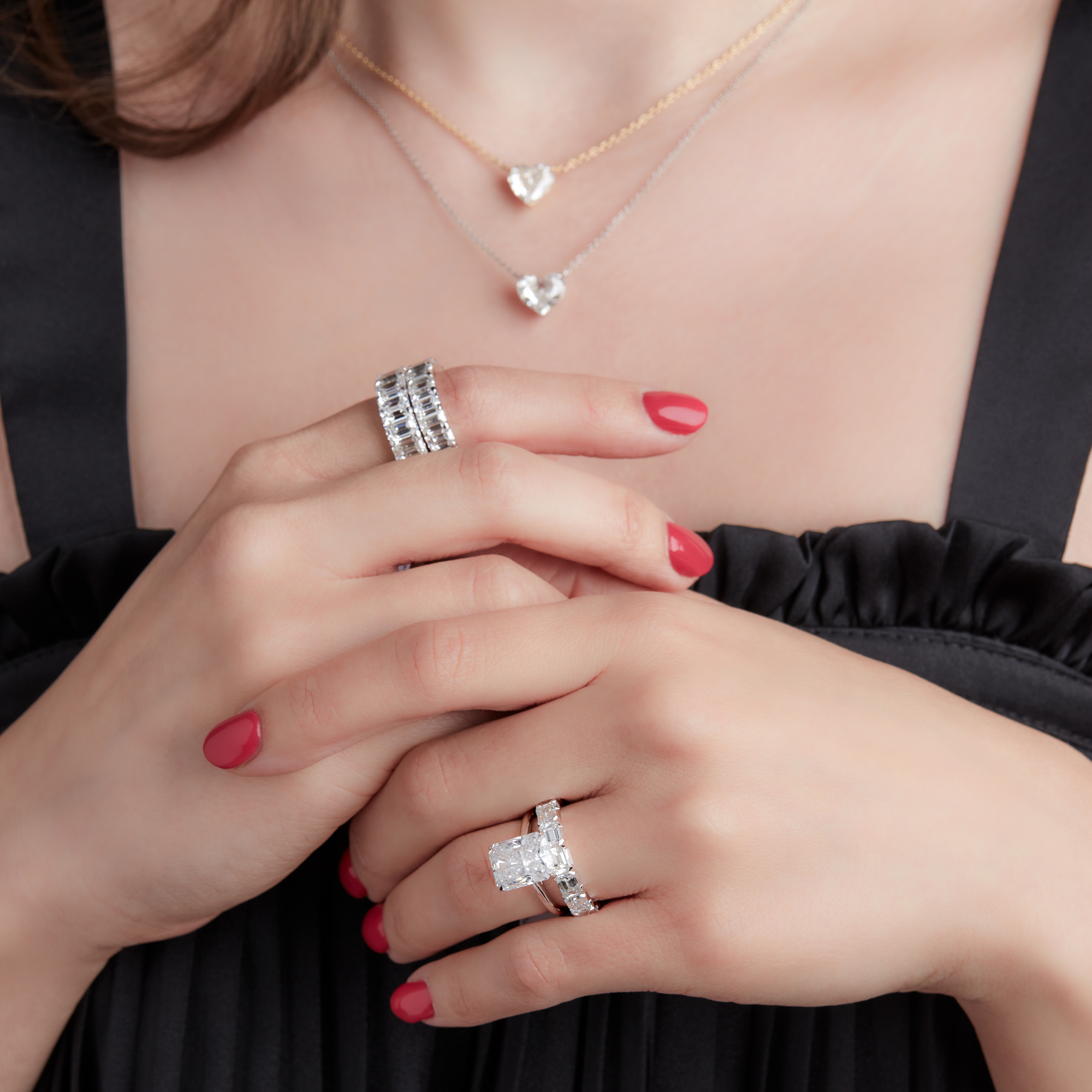 First established in 1989 in Los Angeles, Rahaminov Diamonds is well-regarded for their inventiveness and attention to design, having even won multiple awards at the most recent JCK Jewelers' Choice Award, including Editor's Choice for this triple threat diamond ring.
Rahaminov Diamonds' collections feature both meticulous and unusual cuts that are expertly faceted to highlight and enhance each diamond's shape. At Rahaminov Diamonds, the diamond inspires the design.
Whether you're shopping for a gift or an item that will add a spark to your wardrobe, the bracelets, rings, earrings, and necklaces offered by Rahaminov Diamonds make brilliant conversation starters. Discover Rahaminov Diamonds at Razny Jewelers.
Bracelets by Hulchi Belluni
Wearable art in the form of elegant pieces from Hulchi Belluni leaves a lasting impression. Designer Martine Hul draws from 20 years of experience and inspiration to create each stunning, feminine collection of bracelets. Discover the full collection at Razny Jewelers.
Engagement Rings
For 70 years, we've welcomed couples into Razny Jewelers as they begin their path to happily ever after. With our family, they've shared their stories and returned to us to celebrate the milestones in their lives. It has been a joy to see more couples visit us this year than ever before, shopping for their perfect engagement ring. With wedding sizes reduced and honeymoons postponed, couples are finding ways to make the joy of their wedding day last forever with the engagement ring of their dreams! Shop our collection of designer and custom rings. Are you looking for a bespoke ring designed just for you? We utilize state of the art technology to create pieces from our clients' imaginations. There's no better place to find your engagement ring in Chicago than Razny Jewelers.
Affordable Luxury
World-renowned luxury brands are increasingly creating collections for practically minded clients who are shopping on a budget. We are proud to offer Lagos silver jewelry alongside fine gold rings, earrings, and necklaces by today's most fashion-forward brands. Anyone who believes luxury and accessibility are mutually exclusive has never seen our diamond earrings by Shy Creation, priced under $200. We invite you also to shop our diamond stud earrings, starting under $350.
Tissot Timepieces for the Gentleman in Your Life
At Razny Jewelers, timepieces make us tick! We believe a fine Swiss watch, the inimitable standard of horology, is a wardrobe essential. Visit us today to find the Swiss timepiece he'll never stop wearing. From elegant classic styles to sporty Chrono watches, we have the perfect watch for you! Unsure where to begin?
Visit the Razny Jewelers location nearest you:
Walk-ins are welcome. However, if preferred, CLICK HERE to make your appointment.
Razny Jewelers | Chicago | Chicago@Razny.com | (312) 663-8500
Razny Jewelers | Addison | Addison@Razny.com | (630) 932-4900
Razny Jewelers | Highland Park | HighlandPark@Razny.com | (847) 432-5300
Razny Jewelers | Hinsdale | Hinsdale@Razny.com | (630) 455-1900