Garnet is known for its rich, deep red color, and gem lovers have looked to it for centuries as a wearable symbol of love, passion, and connection.
It is a gem that resembles the rich deep red color of the pomegranate fruit. While it is known for its red color, garnet also comes in many other colors! There are pink, purple, orange, green, brown, and even black garnets! Since ancient times, this miraculous stone was considered a talisman of lovers and was thought to bring out lasting friendships, good energy, and romance. Healers at one time would also use this stone as a medicine for inflammation and other ailments.
Shop Razny Jeweler's Collection of Garnet Designs
The following is a sample of pieces showcasing garnet, January's birthstone, from our collection.
Ponte Vecchio is a brand named after the historical symbol of Florence, the Ponte Vecchio bridge, an icon from the golden trade. Ponte Vecchio's artisans craft jewelry from high-quality gold using precious stones. An example is this beautiful Ponte Vecchio 18k rose gold bypass garnet ring. The artistic design is truly exquisite – fit for a January birthday queen. This is an absolute gem that is sure to make heads turn.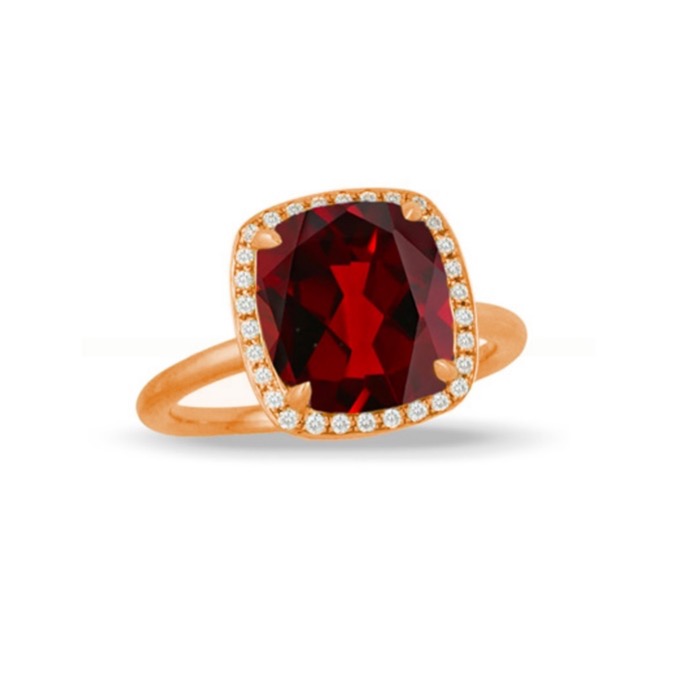 Eye-catching and wearable heirloom-quality jewelry, Doves By Paloma is one of the biggest names in global luxury jewelry. The stunning Doves By Paloma ring features a cushion cut garnet stone in the center assembled onto a rose gold band. This gorgeous piece can be either a statement ring or the perfect engagement ring for a special someone born in January.
Garnet is a magnificent stone fit for anyone-be sure to check out some of Razny's garnet pieces today!
Shop your garnet jewelry at your local Razny store today. Click here to schedule your VIP appointment!
Razny Jewelers |1501 W. Lake Street, Addison, IL 60101 (630) 932-4900
Razny Jewelers |109 E. Oak Street, Chicago, IL 60611 (312) 663-8500
Razny Jewelers |1700 Green Bay Road, Highland Park, IL 60035 (847) 432-5300
Razny Jewelers |37 South Washington Street, Hinsdale, IL 60521 (630) 455-1900