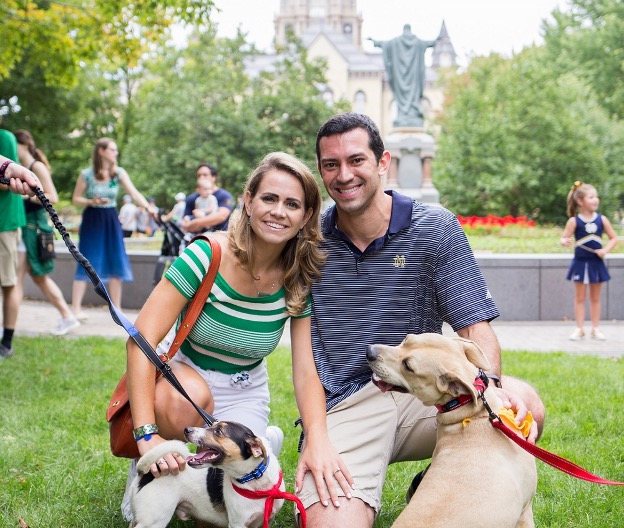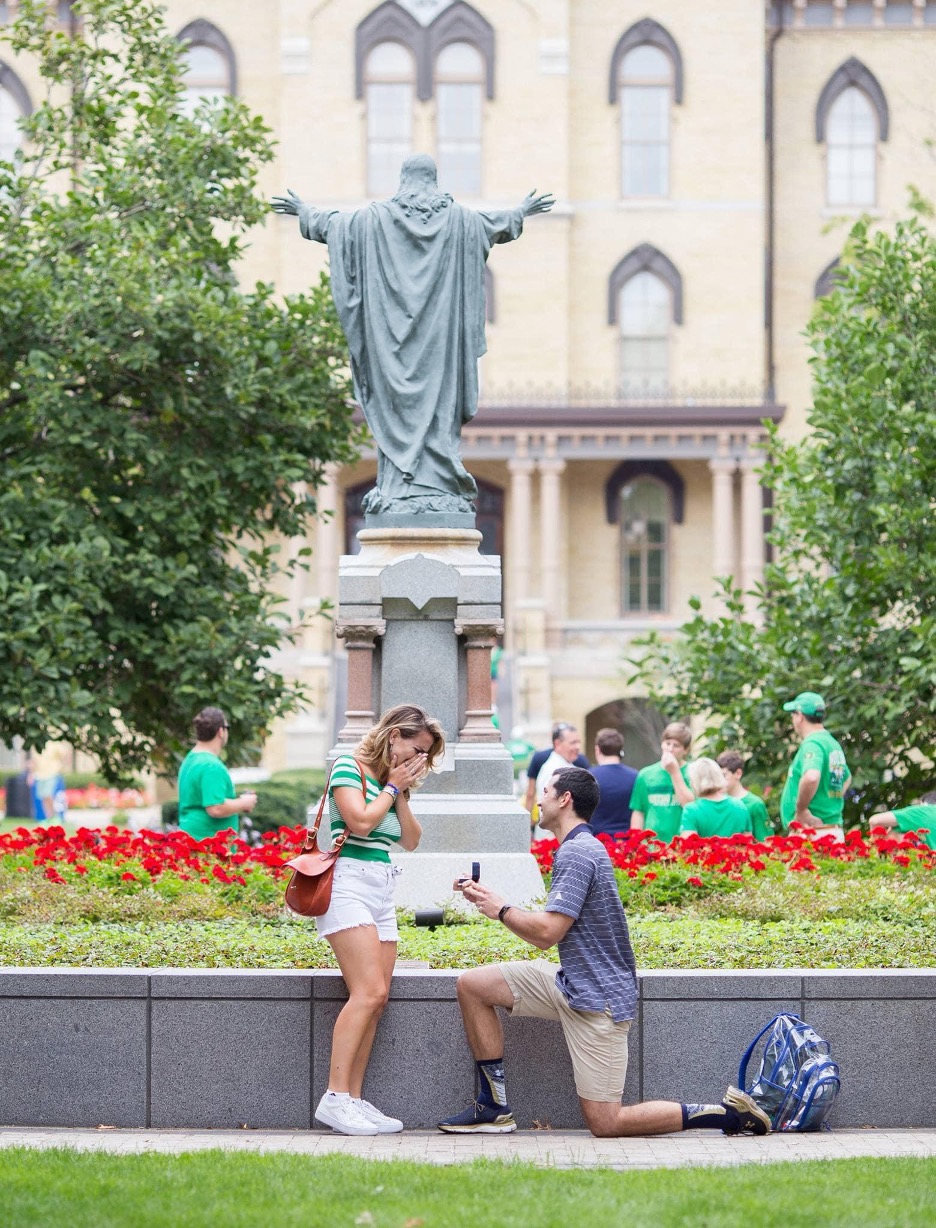 I met Hunter the first week of my freshman year on September 1st, 2012. I saw him, thought he was cute, and somehow ended up at a dorm party in his room, but he wasn't there. I asked his roommate for Hunter's number, and we later connected. Our first impressions weren't the most elegant and the moment ended with me accidentally scratching his face when we hugged goodbye, but it worked out. He proposed on September 1st, 2018, exactly six years from the day we met. Hunter made sure to involve all of my favorite things in the proposal: surprises, family, friends, The University of Notre Dame, football, and dogs. I learned that he had been planning the proposal for a whole year and included most of my friends and family to plan the big day. It involved a lot of elaborate "white" lies, and I was clueless.
The weekend of the proposal, our friends rented a house to hang out during the football weekend (which he actually organized but made me think that I did). The morning of the game, he took me on a scavenger hunt around campus to our favorite spots, which at the time strangely wasn't suspicious to me. Little did I know, my friends and family were waiting at the last stop of the scavenger hunt, hiding on God Quad (the center of campus) while following my location on their phones. Hunter kept stopping at random benches to "enjoy the scenery," but now I know it was because we were ahead of schedule. Hunter made a PowerPoint and a map, gave it to everyone, and let them know where to stand, including a photographer he hired for the occasion. After the last stop, we walked towards the Dome, and Hunter started saying all of these nice things to me. I mentioned wanting to get my camera out because "he was being so nice," but I decided just to listen. After realizing what was happening, I nearly blacked out. He was soon on one knee, and then all of our friends and family popped out from behind trees and ran up to us! Hunter even worked with the local animal shelter I volunteered at during my undergrad years. He arranged to have dogs meet us and found them homes by way of exposure to the students on campus (I love doggos). Hunter's family drove from North Carolina to surprise me, and we all enjoyed a tailgate celebration with friends and family and lots of champagne! The acapella group I was president of in undergrad surprised me at our tailgate to sing for us, and I got to jump in to sing too!
Hunter put the coordinates of where he would propose on a necklace he gave me the Christmas before. Initially, I thought, "why did he choose these random coordinates in the middle of campus?" when I looked it up on google maps. Now I know it's because that was the place where we were going to start our forever. I just happened to wear that exact necklace the day he proposed. He couldn't believe it!
Hunter also got us pregame sideline passes, where we got to watch the Notre Dame team run out of the tunnel while on the field with them. It was easily the best day of my life, surrounded by all of my best friends and family at my favorite place in the universe!
We took engagement photos in Asheville at the Biltmore Estate. One of Hunter's most memorable experiences was secretly going to Razny Jewelers to pick out my engagement ring. Working with Marina was amazing! We've formed a true lifelong friendship with the team at Razny Jewelers.
After being together for eight years, four of those long distance, we were married on July 3rd, 2020. Hunter's following his dreams to become a doctor at the University of North Carolina School of Medicine, and I'm following mine as an artist and designer. We've loved starting our life together and can't wait to celebrate our vow renewal next year with friends and family.