Posted by Razny Jewelers on Mar 18th 2022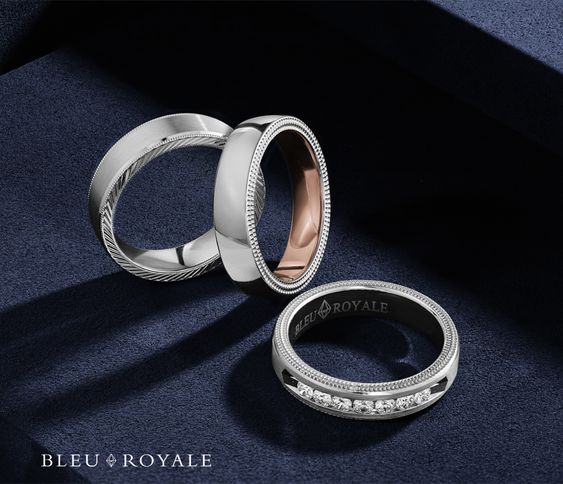 At Razny Jewelers, we believe his ring should "WOW" just as much as his partner's! That's why we feature designers who devote the same level of expert detail and craftsmanship to men's wedding bands as we do to all bridal jewelry.
Longevity is the goal in love and jewelry. Men's wedding bands are sacred reminders of a lasting, loving commitment. Glancing down at his finger, the wearer should be instantly reminded of the beauty in loyalty. We're proud to feature in our collection Bleu Royale, a line of modern men's wedding bands from CrownRing. Each Bleu Royale ring is enhanced with a fortifying layer of precious metal, resulting in a thicker ring with substantial weight. Bleu Royale wedding bands are made to last forever while showcasing luxurious style. Details like hand-painted accents, hammered metal, gemstones, and carbon accents give Bleu Royal rings an exclusive eye-catching element. He'll be proud to wear this now and for the rest of his life.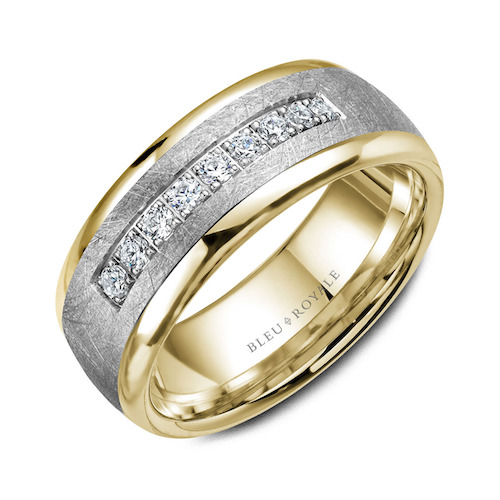 Our favorite picks for the gent who loves diamonds are this two-tone piece, decorated with a masculine row of precious gems, and this version, accented with grey.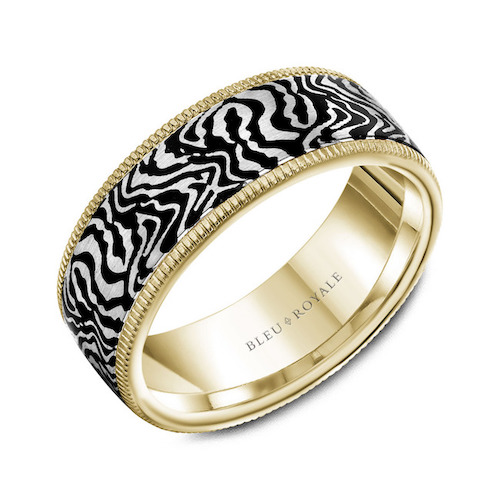 A timelessly bold design, this band is eye-catching in its three-tone colorway.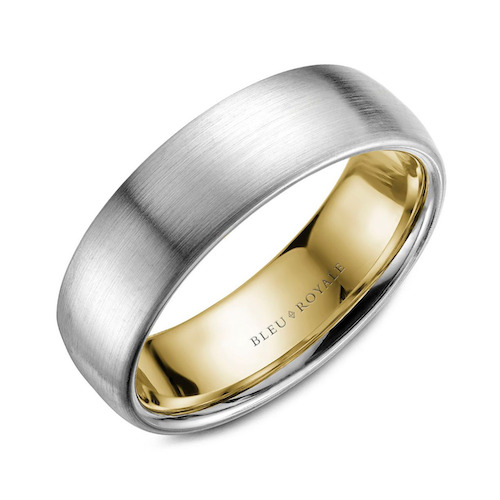 Of course, a groom-to-be can never go wrong with a white gold band with sandpaper finishing.
Whatever your style, the perfect men's wedding band is waiting for you at Razny Jewelers in the Greater Chicago Area.
Discover the beauty of Bleu Royale for yourself at Razny Jewelers.
Walk-ins are welcome. However, if preferred, CLICK HERE to make your appointment.
Razny Jewelers | Chicago | Chicago@Razny.com | 312-663-8500
Razny Jewelers | Addison | Addison@Razny.com | 630-932-4900
Razny Jewelers | Highland Park | HighlandPark@Razny.com | 847-432-5300
Razny Jewelers | Hinsdale | Hinsdale@Razny.com | 630-455-1900