Posted by Karina Bogan on Feb 1st 2022
With its passionate purple hue, February's birthstone, amethyst, has been lauded for centuries. This month, we celebrate the birthstone while highlighting its modern iterations.
Royally Ravishing: Amethyst of the Past
February's birthstone, amethyst, was once as exclusive as ruby (for comparison, some rubies rank among the most expensive gemstones in the world, with record prices over $1,000,000 per carat). Sourced mainly out of Russia until the 19th century, large deposits of the gem were later found in Brazil, paving the road for greater accessibility to the stone reserved for nobility. Today, sources of amethyst are located in Africa and South America.
From the ancient Greek word amethystos (literally, "not drunk"), this wine-colored gem was widely esteemed for its perceived ability to ward off intoxication. While we don't expect Amethyst to cure or prevent a hangover, it remains the most valuable variety of gemstone within the quartz family.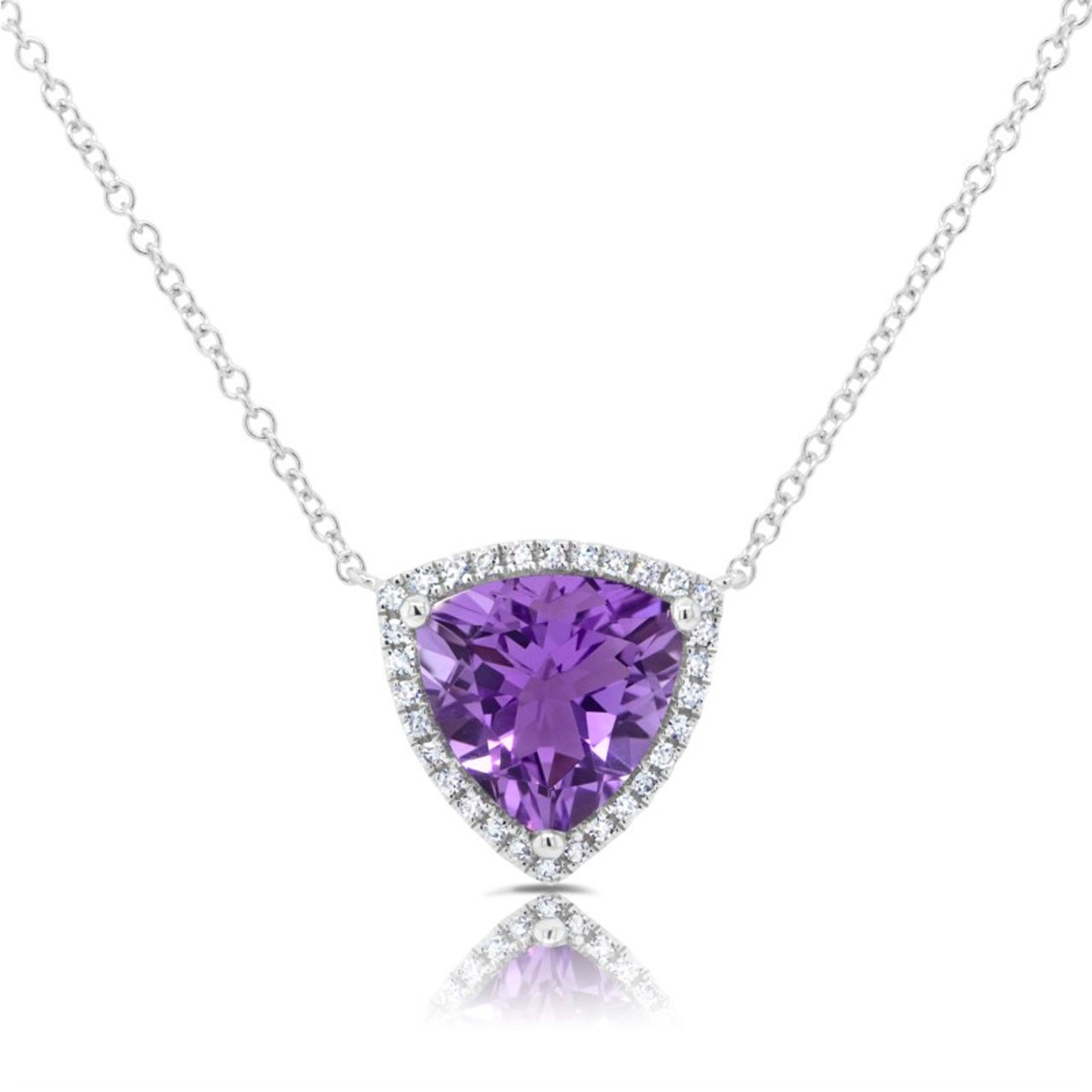 Having a Modern Moment: Amethyst Today
Did you know? Candy and iron are nice, but amethyst is also the traditional gift for a 6th wedding anniversary. Gifting the owner of your heart with this valuable beauty makes perfect sense! For centuries, amethyst has been symbolic of true love and unquenchable passion.
Wallis Simpson, former Duchess of Windsor, was famously decorated in a magnificent statement necklace, designed by Cartier, decked in amethyst, to a gala in Versailles in 1953. So memorable was this bib-style piece that it is still considered one of the designer house's most iconic creations.
Are you looking to add the brilliant amethyst to your collection? Allow our skilled artisans to create for you a custom piece you'll treasure forever! We'll bring your vision to life!
We also invite you to browse our rings, cufflinks, and necklaces decorated with February's beautiful birthstone.
Featured Image: 14K white gold amethyst necklace with an 18in length. The gemstone has a 2.03ct total weight and the design is completed with diamonds. These stones have a .09ct weight, are F-G in color, and have SI grade clarity.